One of the important things what we do here is we deliver the right marketing materials to the right stores at the right time. A significant part of our business is the expertise that accompanies each and every order that gets delivered to our clients' stores' doors. Sustainability is part of our expertise.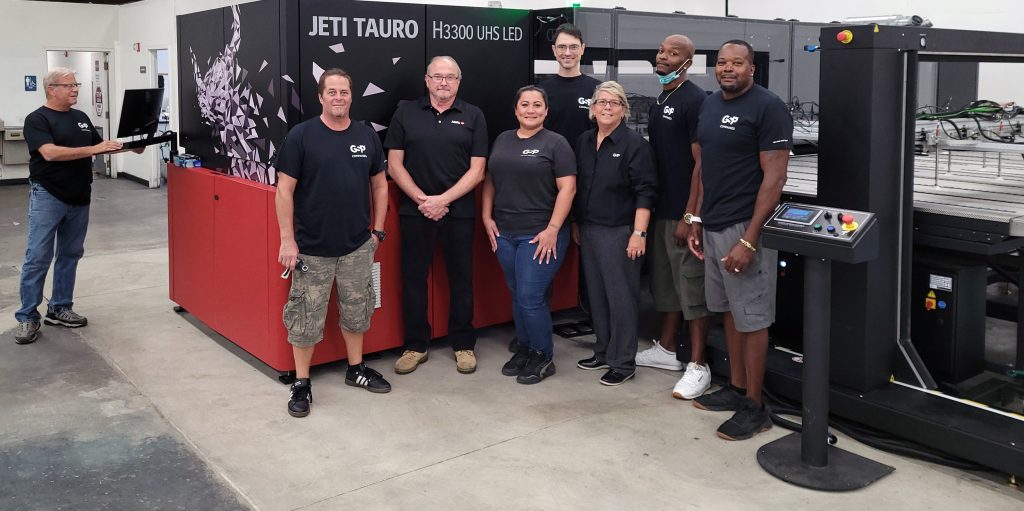 Last year, GSP upgraded our printing capacity through installing two new AGFA Jeti Tauro H3300 UHS LED printers. One press runs at our plant in Clearwater, Florida, and the other at our Sustainable Green Printing partnership certified plant in Madison, Wisconsin. At GSP, sustainability is an important criteria for all our equipment. As the new guy on staff, I wanted to know more about these processes, and here's what I learned:
• They can print on just about any material, especially recycled product.
• They print on fabric, which is easily recycled into pellets, and more about that in a minute.
• These presses use about 30 percent less ink.
• These presses use water-based inks.
Inks have changed over the years. They used to be based on volatile organic compounds (VOCs) and these solvents are not good for the air we breathe. As the VOCs evaporated into the air, the ink dried. Now, LED light exposure passes over the printed material to assist in evaporation at an almost micro level in a split second. This quickly removes the water from the ink and dries it. So when you go into a modern print shop, there's not much to smell. While researching this topic, a GSP executive told me, "I kind of miss that because when I started out my career, the smell of fresh ink was part of the joyful experience of a press check."
Printing on recycled materials is obviously a "win." Printing on fabric and having GSP's system in place for recycling printed products is also a "win." Using less ink and less energy are two more "wins." And that GSP has four plants strategically located across the country accomplishes two things. One, we don't have to ship product as far to reach our nationwide clients. And two, shipping finished product shorter distances means less fuel burned.
GSP also has AccuStore, an intelligence application suite that helps retailers accurately keep track of which marketing resources get deployed at which places in which stores. That's only one of its functions. Using AccuStore means that each store gets the printed materials it needs, and only the printed materials it needs, every time, on time. Reducing waste in retail execution requires expertise.
I've been trying to find out the tradeoffs. I know it's not print quality. GSP continues to win awards for printing excellence in all types of formats. It's not ink durability either. GSP's Customer Service team members can recommend specific inks for specific tasks that can be matched to the proper surface for maximum results. It's not speed either. These presses can print more product in the same amount of time and require less energy per unit printed. Less energy invested into delivering product means a cost savings for our clients. These modern printing presses operate efficiently because of a very interesting convergence of technologies, and it requires expertise to harness these advantages for our clients.